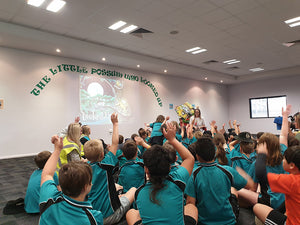 Anywhere, any way
Make the most of The Tweeting Galah eBook format by projecting illustrations onto your screen, or share the stories directly to children's devices.
Curriculum aligned
Created by an experienced educator, each book is aligned with the Digital Technologies, Protective Behaviours, Health, English and ICT General Capability curriculum.
Plug & Play
The Tweeting Galah Digital eBook Pack offers an effective way to teach digital citizenship, without the need for extensive lesson prep. Simply share or project the eBooks!
Reflection Questions
Each short story ends with reflection questions designed to guide classroom discussion, stimulate debate and deepen children's understanding of cyber safety issues.
School-wide license
Share The Tweeting Galah eBooks with your co-teacher, students or other staff members and make collaboration that bit easier! School-wide license included in your purchase.
Recommended
You might want to take a closer look.