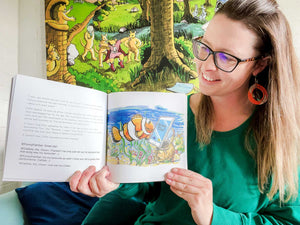 Virtual Incursion - The Strange Story of the Singing Clownfish
Presented as part of the Cybermarvel program, a collaborative initiative of the NSW, QLD, TAS, VIC & NT education departments.
Please scroll down to access the incursion link and supporting resources.
Join incursion
PART 1: VIRTUAL INCURSION
Please join me on Thursday, 13th October 2022 at 11.00am (AEDT) for this incursion.
OR
(Video Link removes all YouTube banners and advertising from around the video, and is suitable for venues where YouTube is blocked)
Please note: this incursion was going to be live-streamed, however due to persistent technical difficulties (regional Wifi, amirite 😅🤦‍♀️) it is actually available as a pre-recording. The video will remain available via the above links for seven days. Thank you for your understanding, and I hope your students enjoy the story!
PART 2: CLASSROOM ACTIVITY
At the end of the incursion, I will introduce a hands-on activity for your students to complete with you in the classroom. All the resources for this activity are available for download. Please download and print the templates before the incursion.
More stories
'The Strange Story of the Singing Clownfish' is just one story in The Tweeting Galah children's cyber safety book series!
explore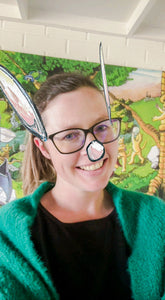 Meet the author
Kim Maslin is a passionate educator and author currently living in Esperance, Western Australia.
Her background is in ICT and education, and she has taught learners aged 5 to 95-year-olds how to use digital technologies.
In 2017, Kim launched The Tweeting Galah cyber safety book series. The idea was born out of the desire to provide cyber safety education to children in a more integrated and fun way. 
As well as creating stories through The Tweeting Galah, Kim is also undertaking research through the ARC Centre of Excellence for the Digital Child and Curtin University.
Kim is available for in-person and virtual guest author visits and STEM workshops. Please get in touch to find out more.